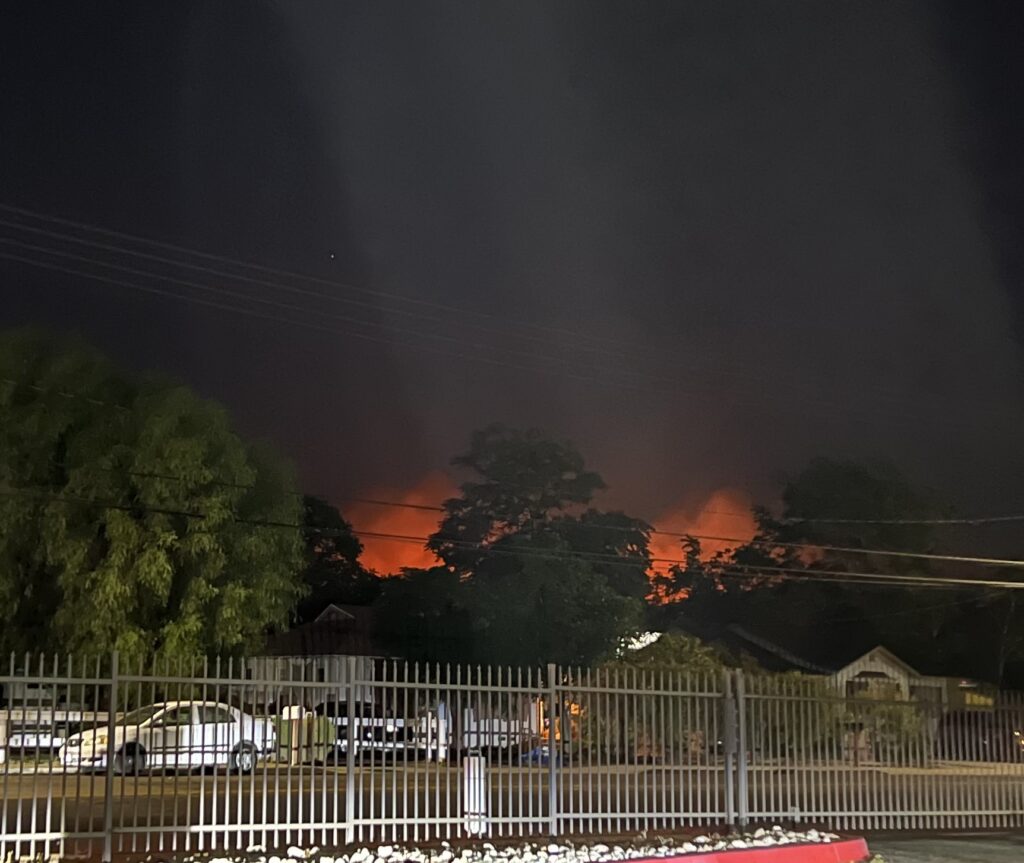 We solicit your prayers for the Hemet Church and others who have been affected by the Fairview fire. The Fairview fire has been raging in Riverside County. The church and some of its families are under evacuation orders. Please keep Pastor James Uyeda and the church family in prayer. Members have been helping others as they evacuate and have been on alert at the church. Please continue to pray for the Hemet community, that this fire would be contained and that there are no more fatalities.
"When you walk through the fire, you will not be burned; the flames will not set you ablaze." Isaiah 43:2b
It is with heavy hearts that we announce the passing of Dr. Alfonso Valenzuela. He passed away last Thursday evening. After a long battle with illness, he is now at rest in Jesus. He had a stellar career of pastoring, writing and teaching. He served the Seventh-day Adventist Church for many years throughout the world and at the Seminary at Andrews University. He also pastored several churches in this conference. Most recently, he was the sole pastor at the Yucaipa Spanish Church. He leaves to cherish his memory his wife, Jeanine and his two adult children, Veruschka and Alan. Services will be held on November 19, 2022 at 6 p.m. at the Yucaipa Spanish Church. Please keep his family, his loved ones and his church in prayer.
On June 8, 2022, the Southeastern California Conference Administration issued the following statement in the wake of several shootings:
Our hearts are heavy, and we mourn with the families and loved ones affected by the several mass shootings that have taken place in the last few weeks across our nation. We are saddened by the increased amount of violence and loss of life, and we pray for comfort for those who are hurt and suffering as a result of these senseless acts. We want to be a part of the solution to make our schools, clinics, churches, and grocery stores safe again.

The Seventh-day Adventist World Church issued a statement over 30 years ago that still rings true today. "Pursuits of peace and the preservation of life are to be the goals of Christians. Evil cannot be effectively met with evil but must be overcome with good. Seventh-day Adventists, with other people of goodwill, wish to cooperate in using every legitimate means of reducing, and eliminating where possible, the root causes of crime."

The Southeastern California Conference of Seventh-day Adventists stands against all forms of violence and wishes to be agents of love, compassion, hope, and justice in our communities.  We commit to being a persistent voice for peace. We pray the words of the Apostle Paul in 2 Thessalonians 3:16, "Now may the Lord of peace himself give you peace at all times and in every way. The Lord be with all of you."
- Southeastern California Conference Administration
By Becky St. Clair
Klenth Sasil moved to Moreno Hills Church last fall and became the youngest Filipino pastor in the conference.
"I wasn't sure where to start," the youth pastor admits. "When you get done at the seminary, there's a lot to process, and I just felt lost."
He started by asking his senior pastor for a work space that could double as a youth hangout. His request was granted, and he set up CAFE Life: Community, Authenticity, Friendship, and Experience.
"I wanted to create a space where we could all just be real with each other and do life together," he explains.
As their first contribution to 2022's year of evangelism, Moreno Hills youth created an evangelistic series for young people called "The Pursuit: Finding meaning and purpose in Christ," which took place over five Sabbaths in January and February. As a result of their partnership with the Holy Spirit, 12 people were baptized.
"Our focus was really the heart of God," Sasil says. "We wanted to provide a chance for people to encounter God's presence in an intimate way."
And, according to Sasil, the series was a success.
"It's not about having a fancy program or the number of baptisms," he says; "It's about seeing people transformed by finding a new pursuit in their lives. That's God at work."
Sasil is enjoying seeing the youth become more at home in their church. CAFE Life provides a comfortable space where they can ask tough questions and have real conversations, and they've started inviting friends to come too.
"They are very curious," Sasil says. "They want to know what it means to be a Christian and they're looking for someone to share their struggles."
The church has been very supportive of CAFE Life. They offer financial support, furnish spaces, provide branded shirts for the youth, and even cook for them. The group gets together outside church at the lake, at restaurants, and for vespers at members' homes.
Sasil says there are conversations taking place between several area churches to make CAFE Life regularly available to all their youth and young adults, and to coordinate regular joint vespers programs. Their goal is to create a strong program that also includes youth who aren't yet part of the church.
"We're just doing what we're doing," Sasil explains, "going where the young people are and focusing on relationship-building. Evangelism isn't always sermons and Revelation–sometimes it's just creating a safe space where we can show authenticity and experience Jesus."
By Dolly Moen
Living back east with college degrees, Ash and Satiya never dreamed that they would ever be homeless in Desert Hot Springs. After an 8 mile walk from Morongo Valley, they were exhausted and dehydrated. With no place to go, they sat in front of a business complex.
With his wife in the hospital, Russ Crumpacker decided to grab a bite to eat. When he got out of the car, he saw the two homeless people, and invited Ash and Satiya to eat with him. They could not believe that Crumpacker would want to be seen with them, especially after the way they looked. Expecting rain that night, he also took them to the store and bought them more blankets and a tarp to keep them dry. When he dropped them off in the Morongo Springs Nature Preserve, he gave Ash and Satiya his phone number.
The next day, they made the decision to reach out to Crumpacker. He brought them home while praying all the way. With cracked ribs and a wife with a recent hip replacement, both caused by recent falls, he needed work done around his place. He invited them to stay and help, paying them for the projects that he would have paid other people.
He brought them to church in Desert Hot Springs the next Sabbath. Ash and Satiya felt like they had found home. In the first study with Cecelia St. Clair, the church's bible worker, Ash and Satiya accepted Jesus Christ as their personal Savior. Sabbath morning, April 16, was a very meaningful Communion and Easter Service. The morning was brought full circle when Crumpacker and Glenn Munson, Desert Hot Springs pastor, baptized Ash and Satiya together, with strong support from their new church family.
What they did not know was that the Desert Hot Springs "Church on Fire" prayer group was meeting every Friday evening in the sanctuary to pray for their church family, community and their leadership.  Hands had been laid on the very pew where they sat, and prayed for while they were meeting Russ.  Led by Dee Lee, prayer ministry leader, "Church on Fire" is a group that comes together every Friday evening to pray. They close the evening by physically placing their hands on the pews and praying for the person who will be sitting in that seat.  As a result, God continues to send new people from the community to fill those seats. It is clear the Holy Spirit is at work in Desert Hot Springs church.
By Rashad Burden and Andrea King
The 31st Street Church celebrated its 100th anniversary of ministry in San Diego. The church has a rich history of music, evangelism, and exceptional pastors. During the month of March, Rashad Burden, current 31st Street pastor, brought back some of the pastors from 31st Street's past to be celebrated and appreciated. Former pastors, Cleveland Hobdy, Andrea Trusty King, Robert Edwards, and John Damon, the most senior living pastor, were all honored during the month.
The celebration didn't end in March. The church scheduled ongoing events to extend the fun and festivities throughout the year. They are compiling a cookbook that will celebrate many of the wonderful meals and excellent cooks that have served the congregation throughout their history.
The church is also doing its part to make sure its members enjoy the same kind of longevity the church has. Members were asked to walk and log 100 miles throughout the year. A mile-long walk path is being set up around the church to help members get in their mile.
"This is the campaign that will be celebrating fitness, will be celebrating health, and will be celebrating our 100 years here at 31st Street," said Belinda Williamson, head elder of 31st Street Church.

The year-long celebration will culminate in a homecoming weekend, October 21-23, 2022. Northern California Conference President Marc Woodson and James Doggette, Sr. are scheduled to return. This weekend also boasts of a choir reunion and banquet. God has truly been faithful to 31st Street Church and they look forward to manifesting all that had been predestined by the Lord.
La Sierra Academy student recites 1000 digits of pi in annual recitation content
By Israel Carreón Jr
Joseph Nguyen, a 12th grade student, broke a new La Sierra Academy (LSA) record by reciting 1000 digits of pi. LSA holds its annual Pi Recitation Competition with junior and high school brackets. This tradition dates back to 2011. The previous record was held by LSA 2018 alum Ezra Sarmiento with an impressive 370 digit recitation. This year, the judges sieved through 16 pages before finally exhausting the numbers available to count. One thousand digits of pi had been recited.
Nguyen still had 111 memorized digits left in the tank.
What had first started out as an ostensible feat quickly evolved into a history-making moment unfolding before faculty and fellow peers. A crowd of few soon matured into a cheering assembly. Nguyen continued with assiduous focus.
"I tried to block out external conversations, but I couldn't help but hear the exclaims of 'How does he know all this?' and 'The teachers just flipped another page,'" said Nguyen.
Nguyen began his journey towards memorizing over 1000 digits of pi during Christmas break. He memorized digits in divisions of 10 and subdivisions of 5. Sometimes a pattern of numbers would appear. Patterns facilitated fluid memorization. His goal was to memorize 15 digits per day–totaling to 1325 digits by March 14–Pi Day, the day of the recitation content. "This was my commitment to consistency instead of procrastination." He took his practice wherever he went.
Nguyen carries no measure of hubris in victory. Quite the contrary, in fact. He demurred at any assertion of being a mathematical sage. "I am no innate genius or math wizard. I only committed myself to consistency and perseverance to achieve this feat."
Herein lies the true genius of Nguyen's talents–the proclamation not of inherent mathematical aptitude, but of dedication, discipline, and the grit to strive towards the achievement of an ambition. This type of genius is available to us all.
Nguyen no longer chooses to stay sequestered behind a computer screen. Along with picking up new record-breaking hobbies, he has traded the computer games for a table tennis paddle. He's got a mean serve. He is currently applying to Seventh-Day Adventist universities that offer majors in computer engineering. His shortlist includes Walla Walla University, Union College, and Andrews University. He attributes his decision to pursue this major due to his enjoyment of mathematical thinking, analyzing problems, and crafting solutions. After setting a new LSA record, Nguyen was ready for some actual pie. He settled for lemon meringue.
By Darriel Hoy
On the weekend that most Christians celebrate the death and resurrection of Christ, Pastor Baron Sovory of the Valley Fellowship Church used the message of Christ's life-saving blood to urge church and community members to give as Christ gave. The congregation responded to the national blood crisis – a critical shortage of blood due to the Coronavirus pandemic – by partnering with the American Red Cross to host a community blood drive. Held on Sabbath, April 16, 2022, the Valley Fellowship blood drive was organized by leader Deborah Enix Williams with team members Ruth Grando, Melinda Ancrum, and Al Fairley.
"Hosting a blood drive coincides with Valley Fellowship'score values of loving our neighbors through relevant, life-transforming ministry," shared Pastor Sovory. "With a simple blood donation - about 30 minutes of our time - we have the ability to help save the life of someone who could be a coworker, loved one, or neighbor. I thank Valley Fellowship for answering the urgent call for more blood donors. Every person who participated is a life saver!"
Valley Fellowship's blood drive attracted almost as many first-time blood donors as long-term blood donors, and most of the participants were invited by a family member. Donna Belvedere, a seasoned donor who has given blood for over 46 years arrived with her daughter Shelby who started donating blood at the age of 16 and has given blood for 20 years. Sonjanetha Scott, the community services leader of the Sixteenth Street Seventh-day Adventist Church and a regular blood donor, was persuaded to give blood by her brother-in-law, Larry Scott, a Valley Fellowship elder and a first-time blood donor. Laura Ulibarri, a medical scribe, coached her mother Donna Ulibarri through her first blood donation, and Pastor Baron Sovory's mother, Rosalyn Sovory, as well as his daughter, Joelle Sovory, joined him in donating blood.
By the end of the blood drive, thirty church and community members donated one pint of blood each, surpassing the goal of twenty donors set by the American Red Cross. Because each blood donation can be separated into multiple components - packed red blood cells, plasma, or platelets, one donation could potentially save up to three lives.
The Valley Fellowship Church blood drive is one of hundreds of Regional Blood Drives scheduled across the country throughout the year. Coordinated by the Office for Regional Conference Ministries in partnership with the American Red Cross, the Regional Blood Drives recruit African-American and Hispanic American blood donors to meet the needs of sickle cell patients; however, all races and ethnicities are encouraged and invited to give blood. To host a Regional Blood Drive at your church, register at https://rebrand.ly/rblood.
Loma Linda Academy is launching a Strider Bikes Program which is the first of its kind in the Inland Empire. This program has been made possible due to the generosity of LLA graduate, Alexander Smith ('04), of Malcolm Smith Motorsports. They recently donated 27 fully assembled Strider Bikes and an instruction bike for Kindergarten PE classes.
The Kindergarten PE classes will enjoy learning how to ride a bike along with many healthy life lessons that come along with it. PE Coaches Rhonda Bonney and Robert Castillo are thrilled with this new addition to the elementary PE program and the kids are excited to get riding.
-Trevan Osborn
Students at Laguna Niguel Junior Academy (LNJA) gathered for their first annual Entrepreneurial "Shark Tank" Academic Fair on March 10th. Modeled after the popular TV show, students were tasked with the assignment of coming up with a fresh invention that helps to solve a problem in today's world. Alongside a class partner, each student came up with a creative concept, researched how to make it, how they would advertise and sell it, and prepared a presentation board along with a prototype to showcase. This was presented to parents, friends, and the community at the "Shark Tank" event held at the school campus on March 10.
The panel of "sharks" was made up of parents and school principal. They judged the presentations. Students entered the room for their presentations to the theme music of the "Shark Tank" show and dressed in their product's theme or in professional attire. Many of the students in grades 6-8 had google slides or PowerPoint presentations to accompany their dynamic and often humorous presentations. After each presentation, the "sharks" each gave a critique and/or asked a follow-up question to each team presenting.
An invention from the K-2 class was a lunch pail tracker, which was a tracking device that goes inside student lunch pails, backpacks, water bottles, and other items commonly misplaced during a typical school day. One of the student teams from the grades 3-5 class featured a toothpaste dispenser that ensured just the "right amount" of toothpaste was dispensed onto a toothbrush with the slogan, "Clean the teeth that you want to keep!"
A dynamite team from the grades 6-8 class featured a "Firehead," which was a ski pole that heated up so that the tip of it can melt any ice that is blocking your ski boots from being clipped out of easily due to snow stuck in the part where the poles clip you out. There were impressive product ideas, such as the "Wello," an eco-friendly hydration tablet (instead of a water bottle) that kept plastic from being thrown in the ocean and harming animals when one is being active and out in nature.
This event was a wonderful time to celebrate the marvelous and innovative minds of young people today. Thank you to the parents and teachers that nurture and support this growth daily. By God's grace, mercy, and guidance the students of LNJA will prayerfully continue to shine in their minds, hearts, body, and soul. It is their desire to have their talents used for God's glory and to honor Him.
-Jessica Preece